So you want to be a freelance marketer? Great! It's a great way to make money and be your own boss with the help of the best freelance marketplace. But how do you find those elusive clients? Here are 10 of the best freelance marketplace sites that will help you find clients and make money.
What is a Freelance Market?
A freelance market is a platform where businesses can find freelancers to help them with their work. Freelancers can find jobs and clients through these platforms, and can often find better deals than they would if they went through an agency.
There are many different freelance markets, and each has its own advantages and disadvantages. It's important for freelancers to research the different markets before choosing one, so they can be sure they're getting the best possible deal.
List of Freelance Marketplaces [Top 10]
Guru.com is one of the many freelance sites that are available on the internet. It functions in a similar way to Fiverr, in that it allows people to post services that they are willing to offer for a set price.
There are some key differences, however. For example, Guru.com requires users to have an account and provides more detailed profiles than Fiverr does.
This can be helpful for those who are looking for specific services, as they can read about the experiences of others before making a decision about working with someone.
Additionally, Guru.com allows users to post jobs rather than just services, which can be helpful for businesses or organizations who are looking for specific skillsets.
If you're a freelancer looking for work, Flexjobs is the best online freelance marketplace to find high-quality, curated opportunities. With Flexjobs, you can search through hand-selected job postings from companies that are committed to helping freelancers find quality work.
You can also take advantage of Flexjobs' exclusive partnerships with top companies like Amazon, Apple, and Dell to get access to the best freelance jobs out there.
Plus, Flexjobs offers a variety of helpful tools and resources to help you succeed as a freelancer. So if you're ready to start your next freelance project, head over to Flexjobs and check out the amazing opportunities available!
Upwork is one of the best freelance marketplaces online. It's a great place to find high-quality freelancers to work on your projects. Upwork has a large pool of talented freelancers, and you can find just about any type of freelancer you need.
The platform is easy to use, and you can get started quickly. Upwork also has a great reputation, and it's been around for a long time.
Web development is a broad term that can encompass everything from developing the simplest of landing pages to creating comprehensive eCommerce solutions.
And as with any other profession, finding the right web developer for your project can be a daunting task. This is especially true if you're not familiar with all the different aspects of web development.
One option for finding a qualified web developer is to use a freelance marketplace such as Fiverr. Fiverr freelancing marketplace is one of the largest and most popular freelance marketplaces on the internet, and it's home to thousands of skilled web developers.
In addition to web developers, Fiverr also offers services for graphic designers, copywriters, and many other professional disciplines.
When using Fiverr to find a web developer, there are a few things you need to keep in mind.
Workana is a top freelance marketplace that connects talented professionals with businesses and organizations of all sizes to get their jobs done.
Whether you need a web developer, writer, or accountant, Workana has the perfect freelancer for you. With over 1 million professionals registered on the platform, you're sure to find the perfect fit for your next project.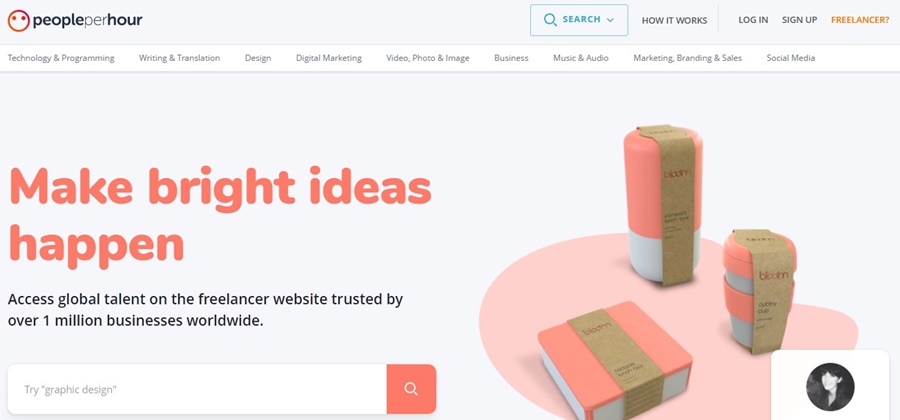 Peopleperhour is a freelance marketplace that connects businesses with freelancers. It's a great site for beginners because it offers a wide range of services, from writing and design to marketing and programming.
You can also find experts in specific fields, like social media or accounting. Peopleperhour is free to use, and you can post a job ad or search for freelancers in just a few minutes.
Recommended Reading: 5 Free SEO Tools That Can Help You Improve Your Site's SEO
The site also has a built-in messaging system, so you can communicate with potential freelancers before hiring them. If you're looking for quality freelancers at an affordable price, Peopleperhour is the perfect site for you.
Looking for a freelance marketplace specifically for SEO? Look no further than SEO clerk. This site connects talented SEO professionals with businesses and organizations in need of quality search engine optimization services.
From link building and keyword research to on-page optimization and content creation, you can find everything you need to improve your website's search engine ranking on SEOcleark.
Unlike other freelance marketplaces, SEO clerk is specifically tailored to the needs of SEO professionals and businesses.
You can find high-quality, affordable SEO services quickly and easily, without having to spend hours combing through dozens of irrelevant listings.
Plus, the site's easy-to-use search engine makes finding the right freelancer or service provider fast and easy. If you're looking for quality SEO services, be sure to check out SEOcleark. You won't be disappointed!
Freelance.com is the world's largest freelance marketplace. It connects businesses with skilled professionals for hire across a wide range of skills, including SEO.
Freelance.com makes it easy for businesses to find and hire talented professionals for freelance work, and it's also a great place for freelancers to find quality work opportunities.
LinkedIn is rolling out a new freelance marketplace for SEO professionals. The new LinkedIn Job Board Freelance Marketplace for SEO will allow businesses to find and hire qualified professionals to help improve their website's search engine ranking.
Also Check: 7 Tricks to Rank Fiverr Gigs on 1st Page 2022
The new marketplace is designed to make it easier for businesses to find the right freelancer for the job, and for freelancers to find work that matches their skills and interests.
Looking for a freelance marketplace specifically for SEO work? Check out Kwork. This site is a great option for finding talented professionals to help with your search engine optimization efforts.
You can post job listings for free, and freelancers can bid on projects they're interested in working on. Kwork is also great for finding remote workers.
If you need someone to help with a project that's outside of your local area, this is the perfect place to find someone who can do the job remotely.
Plus, since all communication takes place through the Kwork platform, you don't have to worry about keeping track of multiple email threads or Skype conversations. Kwork is a great resource for businesses of all sizes.
FAQs:
Which Marketplace is Best for Freelancing?
There are a few different types of marketplaces when it comes to freelancing. The two most popular types are freelance job boards and freelance marketplaces. Both have their own benefits and drawbacks.
Freelance job boards are websites where businesses can post projects that they need to be completed, and freelancers can submit proposals to complete the project. The main benefit of using a freelance job board is that businesses can find high-quality freelancers who have the skills they need for their projects.
The drawback is that businesses may have to spend time sifting through proposals to find the right freelancer for their project. Freelance marketplaces are websites where businesses and freelancers can connect with each other directly. The main benefit of using a freelance marketplace is that both businesses and freelancers can find each other quickly and easily.
How do I Become a Freelance Marketplace?
There are a few different ways to become a freelance marketplace. The most common way is to create your own website or app. This can be done by hiring a developer to create the site or app for you, or by using a platform like WordPress or Shopify that offers templates for creating your own site.
You'll also need to decide how you want to charge freelancers and clients for using your service. You can charge a commission on every job they complete, a monthly subscription fee, or set up a system where clients pay per project.
Once your site is up and running, you'll need to market it to freelancers and clients. Start by creating profiles of your top freelancers and promoting them on social media and other online platforms. You can also run ads targeting freelancers and clients in your area.
Which Freelancing Marketplace is Best for Beginners?
There are many freelancing marketplaces to choose from when starting out as a freelancer. It can be difficult to decide which one is best for you. Here is a breakdown of the most popular freelancing marketplaces and what makes them unique. Upwork is great for beginners because it has a wide range of job opportunities.
You can find freelance jobs in writing, design, programming, and more. Upwork also has a built-in system that allows clients and freelancers to rate each other after each job is completed. This helps build trust between clients and freelancers.
Fiverr is another popular freelancing marketplace. It's known for its "gigs" or small projects that start at $5. Fiverr is perfect for those who are looking for quick and easy projects to get started with freelancing.
Is Upwork better than Fiverr?
Upwork and Fiverr are two of the most popular freelance platforms today. Both offer a wide range of services, but which one is better? Upwork is known for its high-quality freelancers. If you're looking for a quality project done well, Upwork is the way to go.
However, it can be more expensive than Fiverr. Fiverr is known for its low prices. You can get a lot of work done for just $5, but the quality may not be as good as Upwork.
How Can I Start Freelance with no Experience?
The freelance world can be a great opportunity to make money on your own schedule and with no boss looking over your shoulder, but it can be tough to get started if you don't have any experience. Here are a few tips for getting started:
1. Start by looking for freelance gigs online. There are many websites that allow you to post your services and find clients who need them. This is a great way to start building up your portfolio and client base.
2. Get involved in online communities of freelancers. There are many online forums and groups where freelancers can share tips, advice, and job opportunities. This is a great way to learn the ropes and make connections with other freelancers.
3. Attend local workshops or webinars about freelancing. There are many free workshops and webinars held by associations, universities, and other organizations. These events will teach you how to start a business as well as how to get clients and build your portfolio.
Conclusion
So there you have it the 10 best freelance marketplace sites that will help you find clients and make money as a freelance marketer. Use this list to help you get started on your career as a freelance marketer.
Related Earning Guides