As a freelance SEO specialist, I get asked the most: "Which freelancing platform is best for SEO work, Fiverr or Upwork?" It's a tricky question because both platforms have pros and cons. In this article, I'll explain what each platform is suitable for and help you decide which is correct.
You want to hire an expert to do some work for you, but the problem is that you don't know where to find one.
Fiverr and Upwork are two of the most popular platforms for hiring freelancers, but they're also very different in many ways.
This greenhatfiles guide will help you understand which platform is better for your needs.
Fiverr VS Upwork: What's the Best Freelancing Platform SEO?
There are a lot of recommended freelancing platforms out there. But which one is the best for SEO? In this article, we'll compare Fiverr and Upwork to see which one comes out on top.
Upwork is one of the most popular freelancing platforms. It offers a wide variety of services, including SEO. You can find a freelancer for almost anything you need on Upwork.
Fiverr is another popular freelancing platform. It's known for its low prices and its wide range of services. Like Upwork, you can find a freelancer for almost anything you need on Fiverr.
So, which one is the best plateform for SEO? Let's take a look at some key factors.
What is Fiverr?
Fiverr is an online marketplace that allows businesses and individuals to connect with freelancers who offer services starting at $5. Services offered on Fiverr include graphic design, web development, video editing, and more.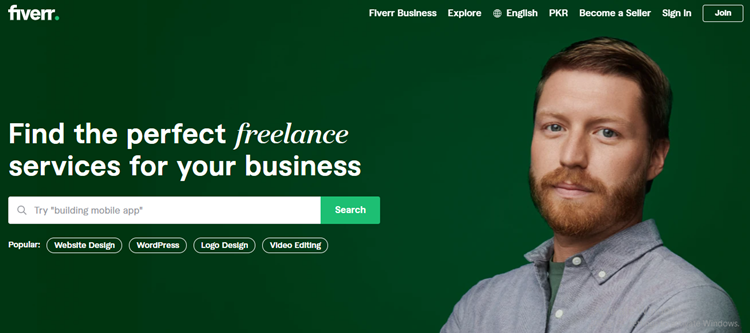 Fiverr is a great way to get quality services at a fraction of the cost of hiring a traditional freelancer or agency. And because there are so many freelancers on the platform, you're likely to find someone who can meet your specific needs.
If you're looking for a low-cost way to get started with outsourcing, Fiverr is worth checking out. But to join Fiverr first, you must pass the Fiverr SEO and Fiverr English skill test on Fiverr.
How to Create an Account on Fiverr?
Signing up on Fiverr is easy and only takes a few minutes! Just follow these simple steps:
Enter your email address and create a password.
Choose your username. This will be the name that appears on your profile and when you post gigs.
Tell us a little bit about yourself and what services you offer. This helps buyers find the right seller for their needs.
Upload a photo or logo to help buyers remember you and your gig.
Set your price for each gig you offer. You can start with just $5, but remember that you get what you pay for!
Describe your gig in detail, including any special requirements or buyer instructions.
Please choose the appropriate category and subcategory for your gig so buyers can easily find it.
Choose the days and hours you'll be available to work.
Click "Post Now" to complete your profile and get started!
We're here for you if you have questions about using the platform.
Benefits of Using Fiverr Marketplace
Fiverr marketplace is an online platform that helps businesses connect with freelancers for various services such as digital marketing, web development, graphic design, and more. The key benefits of using Fiverr are:
Businesses can find quality freelancers for their projects at an affordable price.
Businesses can save time by having all the freelancers they need in one place.
Businesses can rely on Fiverr's buyer protection guarantee.
Fiverr is an excellent way for businesses to get the services they need without breaking the bank.
Why do we use Fiverr for Freelancing?
There are many reasons why we use Fiverr for freelancing. Here are 5 reasons:
Fiverr is an affordable platform for freelancers.
Fiverr offers a wide range of services that freelancers can use.
Fiverr is a convenient forum for freelancers to use.
Fiverr has a great community of freelancers who can offer support and advice.
Fiverr is a great way to start freelancing and build your portfolio.
FAQs about the Fiverr Freelance Platform
How do I start Fiverr with no experience?
If you're looking for a way to make some extra money, Fiverr may be a good option. The platform allows you to sell your services for $5 per gig. But what if you don't have any experience? And do you know how to change the Fiverr username. Here's how to get started on Fiverr:
First, look at the gigs already being offered and see if there's anything you could do. If you have any special skills or talents, there's likely a gig for you. If not, there are still plenty of options.
Next, create a gig that offers your services. Be sure to include all the details of what you're offering and set a price of $5.
Finally, promote your gig and start getting orders! You can promote your gig on social media or other online platforms.
How do beginners get clients on Fiverr?
If you're new to Fiverr and wondering how to get your first clients, don't worry. It's not as difficult as you might think. Here are a few tips to get you started.
First, create a high-quality gig that offers value for the price. Take some time to look at other gigs in your category to get an idea of what buyers are looking for.
Next, promote your gig through social media and other online channels. Make sure potential buyers know what you offer and why they should choose you over other sellers.
Finally, follow up with buyers after they purchase your gig. Ask for feedback and let them know you're always available if they need help or have questions. You'll increase buyers' chances of returning to you for future orders by providing excellent customer service.
What job is best for Fiverr?
There are many different types of jobs that can be done on Fiverr. It all depends on what the person is looking for and their skills. For example, someone who is good at writing could offer their services as a content writer. Or, if someone is good at graphic design, they could offer their services as a logo designer.
No matter your skills, there is likely a job on Fiverr or workchest that would be a good fit for you. The best way to figure out what job is best for you is to browse through the available gigs and see which ones interest you. Once you find a few that you think you would be good at, start applying and see how it goes!
What is Upwork?
Upwork is a freelancing platform where businesses and independent professionals connect and collaborate remotely. With Upwork, businesses can tap into a global talent pool to get more done. And freelancers can work on the projects they want when they want.
Upwork is an excellent way for businesses to find talented freelancers from all over the world. And because Upwork offers an escrow-based payment system, companies can feel confident that they will get the work they need to be done.
If you're looking for a freelance platform that offers a variety of talent and services, Upwork is a great option. Also, you can try Fiverr VS Legiit most recommended platforms. With its escrow-based payment system, you can be sure you'll get the work you need done without hassle.
How to Create an Account on Upwork?
Assuming you would like tips on creating an account on Upwork:
Go to www.upwork.com and click on the "Join as a freelancer" tab near the top of the page
Enter your email address and create a password, then click on the "Create Account" button
Once you're logged in, click on the "Settings" tab > "Profile Settings." Here you can enter information about your experience, skills, education, and more
Next, add some examples of your previous work by clicking on the "Portfolio" tab > "+Add Work Examples." You can also link to your website or blog if you have one
Now it's time to take some tests! Click on the "Tests" tab and take quizzes to show your skills.
Benefits of Using Upwork Marketplace
The Upwork marketplace is a great way to find top talent for your business. With over 12 million freelancers, you're sure to find the perfect match for your project. The Upwork marketplace offers a variety of benefits, including:
Access to a global talent pool: You can find the perfect match for your project with freelancers worldwide.
Affordable rates: Upwork freelancers are typically more affordable than traditional agencies.
Flexible hiring: With Upwork, you can hire freelancers for one-time projects or on an ongoing basis.
Easy to use: The Upwork platform is easy to use, making it simple to post your project and get started working with top talent.
Why we Use Upwork for Freelancing? 5 Reasons
There are many reasons why we use Upwork for freelancing.
First, it is a great way to find work. You can search for projects that fit your skills and interests and apply for them.
Second, you can set your rates and hours. This is great for people who want to freelance full-time or part-time.
Third, you can work from anywhere in the world. Upwork is a global marketplace, so you can find work no matter where you are.
Fourth, you get paid directly into your bank account. This is very convenient and helps to avoid any fees associated with other payment methods.
Finally, Upwork offers an excellent level of protection for both freelancers and clients. This includes things like dispute resolution and escrow protection.
FAQs about Upwork Freelance Marketplace
How can I earn money from Upwork?
If you're a freelancer, you can browse through the available projects and proposals on Upwork and apply for the ones that interest you. Once hired, you'll complete the project and submit it to the client for approval. Once the client approves it, you'll receive your payment.
You can search for projects that match your skills and experience if you're an independent contractor. Once you find a project that interests you, you'll submit a proposal to the client. If the client accepts your bid, you'll be hired and begin working on the project.
Is Upwork suitable for beginners?
There are a lot of great places to find work as a freelancer online, but is Upwork suitable for beginners? Here's a look at what you can expect if you decide to give it a try.
Upwork is one of the most popular sites for finding freelance work, and for a good reason. It's easy to use, and new projects are always posted. However, because it's so popular, it can be tough to stand out from the competition. If you're starting, you may have trouble getting your first few clients.
But don't let that discourage you! Upwork is still a great place to start your freelancing career. Just be sure to put in the extra effort to make your profile stand out and bid on projects that you know you can do well.
Does Upwork charge a fee?
Upwork, formerly known as oDesk, is a global freelancing platform where businesses and independent professionals connect and collaborate remotely.
Yes, Upwork does charge a fee. More specifically, they charge a service fee of 20% for every job completed through their site. This service fee is in addition to any other costs the freelancer may incur, such as payment processing fees.
Upwork charges a fee to help cover the costs of running their business and ensure they can continue providing a high-quality platform for freelancers and companies to connect. They also use the fees to invest in new features and improvements for the site.
Why is it difficult to get a job at Upwork?
There are many reasons why it may be challenging to get a job at Upwork. The company is very selective in who they hire and often receives a high volume of applications. Additionally, the jobs available at Upwork are usually very competitive, and many qualified candidates are repeatedly applying for each position.
Upwork is also a very fast-paced and demanding environment, which can be difficult for some people to adjust to. The company expects its employees to be able to work quickly and efficiently under pressure, and this can be challenging for some people.
Finally, Upwork is a relatively new company, still growing and changing rapidly. This can make it difficult to predict the future for the company and employees looking for long-term stability in their careers.
Final Words
In conclusion, Fiverr and Upwork are both great platforms for SEO freelancers. They each have their advantages and disadvantages, so it's essential to choose the right one for your needs. If you're looking for a platform with a lot of variety, Fiverr is a great option. If you need a platform that offers more protection for buyers, Upwork is a better choice.
Related Freelancing Guides